Wyldwood
is . . .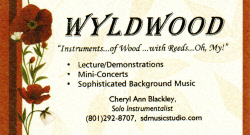 . . . Cheryl Ann Blackley.
A professional musician for nearly 40 years, receiving her union card (in Canada!) in 1983, Cheryl specializes in the traditional "orchestral" reed instruments - clarinets, saxophones, oboe/english horn and bassoon - instruments originally or traditionally made of wood, and/or played using a wood reed.
As Wyldwood Cheryl offers lecture/demonstrations, private(house) concerts and sophisticated background music. She plays with professionally recorded accompaniments, many of them arranged and recorded herself, from piano solo to jazz trio to full orchestra.
Whether you would like to learn a little bit, simply be entertained, or just enhance the atmosphere of your special occasion, Wyldwood can take care of all your music needs.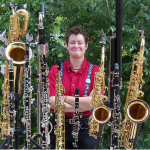 Lecture/Demonstrations are usually planned to be approximately 45 minutes long, with time for questions and answers during the presentation or at the end. Wyldwood brings six to nine different instruments representing each of the four families of reed instruments, gives a brief description including the history and origin of the instrument, and then performs a familiar selection of music often associated with that instrument.
Private, or House, Concerts are also usually 45 minutes to an hour long, are usually performed on four to six instruments, and are often based on a single theme, such as Romantic Jazz, Great American Marches, Latin Fantasy, Stars of Stage and Screen, Opera Favorites, and more; with only a short introduction given before each selection is performed.
Background Music is offered for one to three or more hours, is played without spoken commentary, unless requested, usually only on clarinet and saxophones, and is usually based around a common style, such as Classical, Jazz, or Broadway, and can change style from hour to hour if desired. A 10-minute break is needed once each hour, and special requests and dedications can usually be accommodated.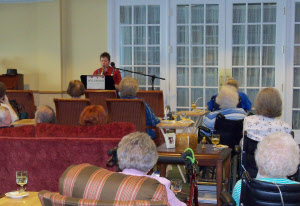 Of course, each of the previous offerings can be modified or combined as you desire, such as Background Music while greeting or eating, followed by a Private Concert or a short Lecture/Demonstration during refreshments or dessert; or Background Music can shift from quiet, unobtrusive music for greetings and hors-d'oeuvres to light, informal dance music later in the evening. Wyldwood needs only a space of ten to twelve square feet and access to a grounded electrical outlet, and will work with you to provide whatever you need or desire to make your event extra special and memorable.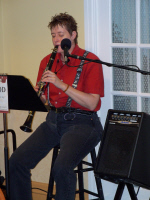 Wyldwood's services are secured with the receipt of a printed Performance Agreement signed by both parties, and accompanied by a booking fee; with rates starting at $100.00. Wyldwood is usually available weekday mornings, some afternoons and evenings, and anytime Friday-Sunday.
In the summer months Wyldwood can also be found performing in downtown Salt Lake as part of the Gallivan Center Lunch Bunch Concert Series; and occasionally popping up at a number of area Farmers' Markets, including the Salt Lake Downtown Farmers' Market on Saturday mornings and the Harvest Market on Tuesday afternoons at Pioneer Park, and the Bountiful Farmers' Market in downtown Bountiful on Thursday afternoon, as a busker performing for tips and donations.
Current Show Titles:
All-American Concert
•
At the Ball
•
Broadway Hits
•
Classical Goes Swing!
•
Easy Listenin': Hits of the '50's & '60's
•
Great American Marches
•
Halloween/At the Ball
•
Hot Latin Hits•

Jazz

Classics

•

Latin Fantasy

•

Lecture/Demo Program

•

Marches & More

•

Opera Favorites

•

Romantic Jazz

•

Sax-o-Fun

•

School Program

•

Stars of Stage & Screen

•

Swingin' Jazz Standards •

Swingtime!

•

Christmas Jazz Carols

•

Christmas Jazz Hymns

•

Christmas Swing

•

Traditional Christmas

•

Traditional Christmas w/Sing-Along
Playlist Selections:
Ain't
Misbehavin'
On Broadway
All the Things You Are
One Note Samba
As Time Goes By
Over the Rainbow
The Blue Danube Waltz
The Pink Panther
Body and Soul
Rakoczy March
Bye Bye Blackbird
Rhapsody in Blue
Cabaret
Russian Sailor's Dance
Days of Wine and Roses
Satin Doll
The Entertainer
Semper Fidelis March
A Foggy Day
Sentimental Journey
Funeral March of a Marionette Simple Gifts
Granada
Some Enchanted Evening
Habañera The Sound of Music
I Got Rhythm
Strike Up the Band!
La Bamba
Tales from the Vienna Woods
The Liberty Bell March
Tritsch-Tratsch Polka
O Sole Mio
The Washington Post March
And, of course, a large selection of
traditional and jazz Christmas tunes.
Audio Clips:
"I Got Rhythm" - Clarinet
"In a Sentimental Mood"
- Alto Sax
"Don't Get Around Much" - Bari Sax
"Cabaret" - Clarinet
"Ain't Misbehavin' " - Alto Sax
"The Washington Post
March"- Clarinet
"Over the Rainbow" - Bari Sax
"Jingle Bells" - Alto Sax
"What Child Is This?" - Clarinet
"The Christmas Song" - Bari Sax