Wi-Fi(ve) is . . .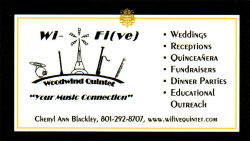 . . . five talented and experienced musicians who have come together to form a fresh new chamber ensemble in Northern Utah. Our beautifully rich and sonorous sound, coupled with our outstanding musicality and professionalism is absolutely guaranteed to knock your socks off!
Together, the members of Wi-Fi(ve) have over 100 years of combined professional experience, having performed all over the world, from recording in Los Angeles to playing at Carnegie Hall and throughout Western Europe, Mexico and Canada; and we currently teach and play professionally throughout Northern Utah. Our deep musical background includes degrees from UCLA, Eastman School of Music, Vanderbilt University and the Royal Scottish Academy of Music and Drama, as well as private studies with top instrumental professionals.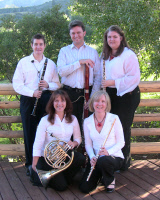 Wi-Fi(ve)'s repertoire is truly international, comprising styles from Baroque to Contemporary, and countries from the Americas to the Middle East. From the beauty of Mozart, Beethoven and Debussy, to the sultry South American sounds of Piazzolla and Villa Lobos, as well as jazz, songs of yesteryear and the "off beat," Wi-Fi(ve) has the extensive musical library to provide the perfect atmosphere for any occasion. Please feel free to contact us for sample programs and/or a demo CD.
Wi-Fi(ve)'s private entertainment packages begin at $300, we will work with you to make sure all your music entertainment needs are taken care of, and we will honor your specific special requests if at all possible. Contact us today to reserve our services for your special event and address all your questions and concerns. We are sure we really can be "your music connection!"
Wi-Fi(ve) is . . .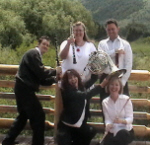 Lisa Busick Johnson, Flute; Park City.
Robin Vorkink, Oboe; Magna.
Cheryl Ann Blackley, Clarinet; Woods Cross.
Sean Raleigh, Horn; Sandy.
Ryan Van Liere, Bassoon; Midvale.
Audio Clips:
"Amazing Grace/Precious Lord Medley"
"Beethoven Quintet 1st Mvt."
"Gershwin Prelude I"
"What Shall We Do with the Drunken Sailor?"
"In Dulci Jubilo"
"Jingle Bells"
"Nutcracker Overture"