. . . three local ladies who play wonderfully delightful music of yesteryear:
Popular American Parlor Music.

Inspired by the legacy of Stephen Foster, the "Father of American Popular Music" (and taking their name from one of his last compositions), Beautiful Dreamer performs a wide variety of selections that family and friends would gather together in the best room of the home - the parlor - to enjoy listening and playing: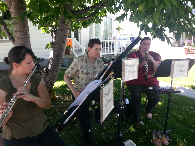 Folk songs and dances from ancestral homelands, American folk songs, hymns and spirituals, music from the vaudeville and theater stage, the concert hall and the ballroom, patriotic tunes and marches, and seasonal favorites.
Beautiful Dreamer performs at local music festivals and concert series, for private(house) concerts, and offers sophisticated background music for all occasions - from dinner parties to receptions of all types. Beautiful Dreamer's services are secured with the receipt of a printed Performance Agreement signed by both parties, and accompanied by a booking fee; with rates starting at $240.00 (Please ask about our discount rates for senior centers and other non-profit organizations). Beautiful Dreamer is usually available weekday evenings and weekends, and occasional mornings and afternoons.

Beautiful Dreamer is . . .

Music Styles:
Ballroom Favorites:Waltzes, Tangos & More
• Gershwin & Friends:Broadway music, including Berlin, Porter, etc.
• In the Parlor:Light Classical & Opera Favorites
• Old Folks at Home:Old-time & Folk music
• Rags & Reels:Uptempo Dance & Dance-style music
• Sunday Afternoon:Hymns & Spirituals
• Wave That Flag:Patriotic & Wartime music
• Christmas Time:Christmas & Seasonal Favorites
Playlist Selections:
Ain't We Got Fun
The Irish Washerwoman
Alexander's Ragtime Band Let Me Call You Sweetheart
Amazing Grace
Maple Leaf Rag
Arkansas Traveler M
olly on the Shore
Bill Bailey
Merry Widow Waltz
Chicken Reel
Night and Day
Civil War Songs
Oh! Susanna
Clair de Lune
Rag-time Dance
The Entertainer
Simple Gifts
Fisher's Hornpipe
The Stars and Stripes Forever
Habanera
When Irish Eyes are Smiling
I Got Rhythm
You're a Grand Old Flag
And also a variety of Christmas and Seasonal favorites.

Audio Clips:
"Beautiful Dreamer"